Data protection requires a multifaceted approach. Risk management can't be considered complete without data encryption. Special attention should be paid to data at rest encryption.
Confidential information stored on a corporate workstation can be printed, uploaded to a flash drive or communicated to any other external device. Risks are high when data transfer isn't monitored. Business circle breaches happen if information is channeled freely.
Encryption definition implies that robust technology keeps sensitive information from being misused. Accurate encryption guards your data from outside attacks and insider threats, thus ensuring that your company's compliance is regularly updated and conforms to current law requirements.
Business governance requires proper auditing. Top management needs to know who accesses data within a corporate network, how it is accessed, and whether anything is being changed. If your information is solidly encrypted, you will only be able to detect attempts to misapply corporate data.
ADJUST ENCRYPTION SETTINGS
The SearchInform system provides you with intelligent encryption features. Data encryption software can encrypt information written by a particular user so that others couldn't read it. Encrypted data can be shown on a particular computer while it will be unavailable on others. SearchInform lets you manage access rights and tweak encryption settings, configuring it in accordance with your needs. You can customize authorization and allow encrypted details to be accessed by approved employees and devices.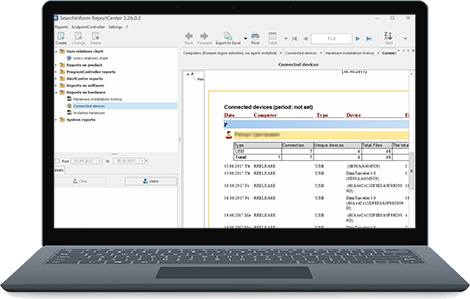 Free trial request
Complete the form to get a free trial license, valid for 30 days.
Try the products