COMPUTER FORENSICS, FORENSIC TECHNOLOGY
IT forensics is oriented to perform or support internal investigations. Network forensics specializes in obtaining and analysis of volatile and dynamic information about a network and network events. Data forensics aims at content monitoring and auditing of all the activities with corporate information. SearchInform provides you with a product that makes all these mechanisms function in a solid workflow and comprises the features of forensic software necessary for internal investigations. An investigation is implemented smoothly and reactively, revealing irregularities and situations that go against policies and corporate standards.
Investigation is a time-consuming process that requires a thorough approach and precise analytics tools.
The investigative process should:
detect behavioral patterns
search through unstructured information
schedule data examination
track regulatory compliance levels
recognize changes made in policy configurations
ensure the prompt and accurate collection of current and archived details from different sources
LOOK INTO THE MATTER
The point of the solution is to facilitate shaping of insights and the overall picture of your business operations, allowing you to enhance organizational methods, perfect cyber crime investigation techniques, and improve your risk management program.
As the field of digital forensic solutions continues to expand, the number of forensic hardware and software tools is also increasing. SearchInform brings you an optimized system, which conducts research to ensure all your business processes remain unhampered. The adjusted interaction of investigative engines allows you to comprehend your business structure and allows you to grasp research opportunities provided by perfect visibility.
Investigation requires many people and various tools for in-depth implementation, and SearchInform suggests that you obtain all these instruments combined in one solution:
clear automated navigation and fine tuned diagnostics
productivity and access tracking
abnormal activity capturing within a specific context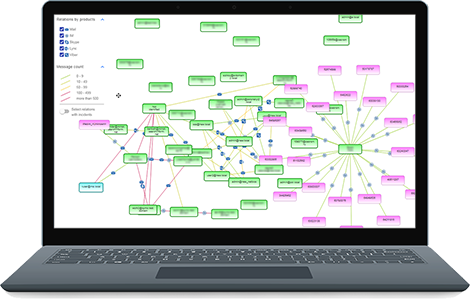 Free trial request
Complete the form to get a free trial license, valid for 30 days.
Try the products