Sensitive data protection requires companies to invent more strategies and techniques while keeping their information from being leaked. Exposure of confidential details or their transfer to a third party can lead to decreased profit, loss of reputation, and create breaches in the risk management system.
Data can be compromised in multiple ways:
Insiders might stay active for years if their wrongdoing remains undetected
Violators sell clients' personal details to competitive companies or scammers
Information can be leaked unintentionally – i.e. an email can be misaddressed, a flash drive can be forgotten outside the workplace, etc.
Employees might leak secret data due to negligence or unawareness
CLEAR ALGORITHM
SearchInform gives you the visibility that is essential for maintenance management.
The software controls all communication and data transfer channels used by employees
Transmitted information is monitored and analyzed
The system alerts about atypical events
Or automatically blocks data movement outside the corporate perimeter.
SearchInform ensures that the workflow isn't hampered during the system's installation.
The solution provides you with preconfigured policies suitable for various industries – it is fully functional as soon as the program is installed.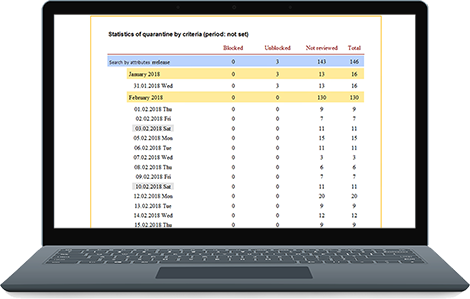 Free trial request
Complete the form to get a free trial license, valid for 30 days.
Try the products