Human related risks can be minimized when HR officers are aware of who they are working with. It is possible to prevent an incident caused by a chief accountant inclined towards gambling thanks to proper risk management that ensures that risk control mechanisms are efficient and up-to-date.
Human factor is a major issue causing breaches in a company's strategy and the SearchInform system guarantees correctly conducted monitoring of employees, divided into risk groups.
Employees are people and aren't immune from having "skeletons in the closet". The problem occurs when a third party finds out about staff members' weaknesses or propensities. Such secret information can be used against them, when a violator begins to:
threaten to release such private details
blackmail them
spy on their activity
initiate social engineering attacks
The SearchInform solution features elaborate techniques contributing to corporate audit and risk management.
It will report of any atypical activity within a risk group, such as:
gambling
alcohol addiction
drug addiction
debts
terrorism
DISCOVER DESTRUCTIVE CONDUCT
SearchInform algorithms identify debtors and addicted staff members thanks to the analysis of correspondence between employees. The program's AI elements help to reveal suspicious employee tendencies, recognized in messages captured via various communication channels.
The system considers risk levels, configured policies and the ways information is used, providing comprehensive analysis and a fine-tuned reporting mechanism.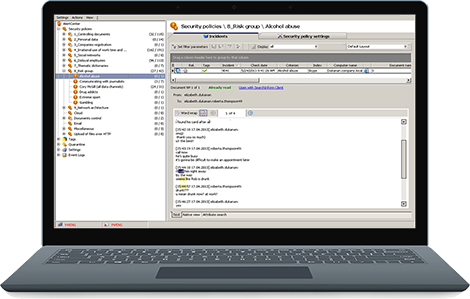 Free trial request
Complete the form to get a free trial license, valid for 30 days.
Try the products