Only 38% of the companies in the credit and financial sector did not experience a leakage of sensitive data in the first half of 2017. All other companies had to stop theft attempts or deal with their consequences.
The list of human-related risks experienced by financial services organizations includes:
Corporate fraud and profiteering, such as payoff, embezzlement, etc.
Leakage of VIP accounts and transaction data
Theft or leakage of bank card details
Disclosure of employee and client personal data
Leakage of auditor reports
Disruption of IT infrastructure
FIND OUT HOW WE PROTECT FINANCIAL SERVICES INSTITUTIONS FROM INTERNAL CORPORATE RISKS.

LEARN MORE:

The financial, reputational and regulatory impact of human-related risks in the financial sector can be catastrophic. An employee, contractor or third party can provoke the interruption of a financial institution's business or give the edge to competitors because they have access to confidential data and tend to act in their own benefit.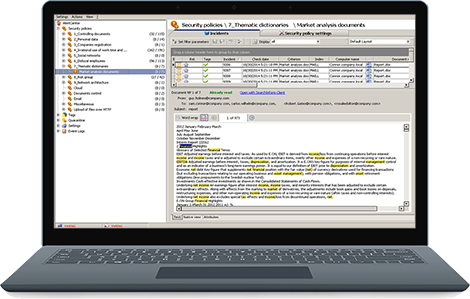 A financial service organization has to control the following:
VIP accounts
Data on cash logistics
Client bases (information about legal entities and individuals)
Newly announced services
Transaction information
Shareholder data
Personal data on employees and clients
Data on debtors
Auditor reports
Free trial request
Complete the form to get a free trial license, valid for 30 days.
Try the products