CORPORATE FRAUD,
RISK ASSESSMENT MATRIX
While hacker attacks usually draw attention as they happen in real time, corporate fraud might take some time before being detected. Consequences can be prevented if a company performs business continuity management to identify possible risk impact and detect first signs of atypical activity. New norms and regulations and a changing landscape of corporate threats require a complex approach to your security risk assessment.
Scam plotting is often performed by a group of colleagues who want to benefit from the opportunities presented to them through their job, obtaining greater profit by exploiting the company's resources. Before taking countermeasures, you need to implement risk assessment matrix to evaluate and prioritize threats. The business continuity risk assessment is conducted within the broader framework of enterprise risk management.
BRIBERY, LOBBYING AND SIDE SELLING, AS WELL AS ACCEPTING KICKBACKS, are widespread among businesses and are difficult to combat if there is no proper risk management system in place.
A company's development is undermined due to embezzlement and misrepresentation in financial statements.
Employees can team up against top management and start their own business, which their employer knows nothing about. It's easy to steal a company's client base if customers are being offered lower prices. By luring clients away, employees threaten a company's profit.
Staff members can accept kickbacks when buying from those suppliers offering higher prices to a company.
Employees might equip customers with incorrect information, making them pay more for a product or provide them the wrong products they didn't agree to.
SUSPICIOUS ACTIVITY DETECTION
Employees pose multiple risks to a business, endangering a company's reputation and going against corporate objectives. Catching fraudsters is a difficult task and this can be implemented only thorough monitoring.
Rigorous inspection is necessary to facilitate governance and make internal processes transparent. An in-depth audit keeps track of a company's recovery steps and allows management to prepare for unexpected occurrences, thereby contributing to business continuity program performance.
An internal audit:
identifies an event
assesses it
collects information that can be provided to officials or used during an investigation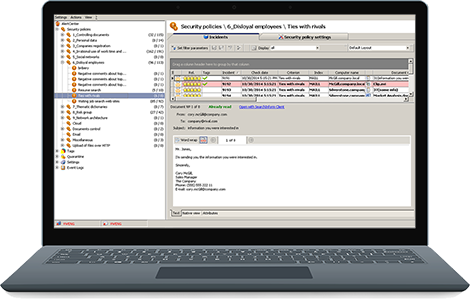 Bribery detection is trickier, as many details should and can be regarded with accurate control.
SearchInform has substantial expertise in detecting fraudulent behavior. The company's experience in mitigating threats regarding bribery, kickbacks and side selling have helped our developers shape the optimal risk management framework for combating corporate scheming and destructive insider activity.
SearchInform presents a comprehensive solution, integrating a number of elaborate policies, with which compliance will facilitate control over your business processes and ensure you are up to date with any changes occurring within your corporate network.
The policies are preconfigured and ready to work with as soon as the system has been installed.
Free trial request
Complete the form to get a free trial license, valid for 30 days.
Try the products